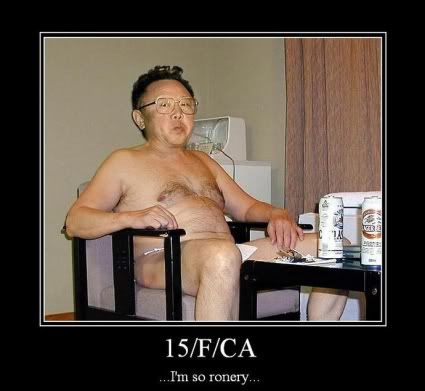 ....yea..I'm sure there is a good chunk of 'females' or 'males' on here that
actually look like that...you know..the ones that
don't need to prove they're real.
Here is my issue with 'unverified' people...
..as far as I'm concerned..you aren't who you say you are.
Everything you spout out is a lie.
You used a fake picture to gain attention.
And if you're...
SO GOD DAMN P R O U D
of you who really are...
what's the big f'in deal with proving it?
You apparently have an issue with it becausing tossing in
one verified pictures with 400+ other images you have
is really hard to do..huh?
I also adore those that get all 'defensive' and butt hurt when questioned...
..but instead of correcting the problem..they resort to childish name calling..
..and cock struttin'.
For me..it's a red flag.
You're a fake.
If I'm a bitch for calling out someone who's a liar.
Then...so be it.
If these said people really 'don't care'...
..then why do they 'care' so much about telling the truth.
Or in this case...showing it.
They care enough to write blogs and attack others...
...create new accounts..etc.
There is one sure fire way to make all the false accusations go away.
Prove it.
:)
Let me make one thing perfectly clear...
..so that you guilty twits don't get it twisted.
You've got nothing that I could possibly be jealous of..
..other than your careless ability to lie.
And even then...that'd be an ugly quality to have.
It might just be me but I don't lie liars.
For everyone else who could care less about those that fake it up.
Grats to you for being so accepting.
I thought this site was about getting to know the 'faces' and 'people' behind the gt.
But..how can that be...if the..'cake is a lie'.
xD