Right.
A couple of flash things for today.
1st off, I got me an Elite 360. HDMI cable, 120gig hard drive, all black....this machine is tall poppies in my book. The only problem is it doesn't come with the tranfer cable from me old hard drive to the new one and when I called Microsoft, they said they would send me one for free, but they can't at the moment & they want me to call them back in a week. Buggar. Everything else is spot on though. Here's me with me brand new toy: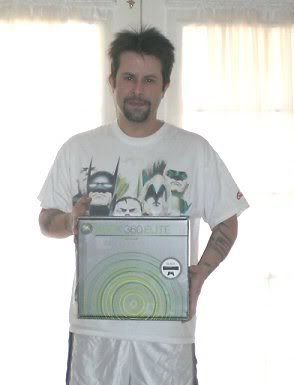 Yeahrs, I know...I not looking to spiff this morning, but I had to get up early to make sure I got me machine didn't I? Old tee, shorts, winded out hair...oh my! At least the Elite box is something nice to look at eh?
Second thing is I found this remote and am dying to give it a go! Check it out:
Bet all the blokes would love this thing!
Well now is time for a bit of rest, then dinner, then some gaming (downloaded the hero/villian pack for Marvel Ultimate Alliance...i.e....Hulk & Venom on the same team!), then a WWE pay-per-view tonight (yes, I am a huge wrestling fan & get sick of hearing, "you know it's not real, right?" AHRGH!).
Till me next blog...game on!